Form 8928, Return of Certain Excise Taxes Under Chapter 43 of the Internal Revenue Code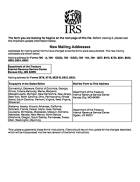 Latest Revision
Updated: 11/23/2019
Successful Requests: 1,036,357
Instructions Included: Yes
Group health plans or employers file this form to report the tax due on the following failures.
Form 8928
New Mailing Addresses for Certain Forms -- 22-MAR-2019: Mail Form 8928 to: Department of the Treasury Internal Revenue Service Center Kansas City, MO 64999
A failure to provide a level of coverage of the costs of pediatric vaccines (as defined in section 2612 of the Public Health Services Act) that is not below the coverage provided as of May 1, 1993.
A failure to satisfy continuation coverage requirements under section 4980B.
A failure to meet portability, access, renewability, and market reform requirements under sections 9801, 9802, 9803, 9811, 9812, 9813, and 9815.
A failure to make comparable Archer MSA contributions under section 4980E.
A failure to make comparable health savings account (HSA) contributions under section 4980G.