Form 8864, Biodiesel and Renewable Diesel Fuels Credit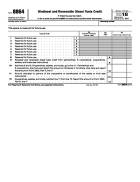 Latest Revision
Updated: 11/23/2019
Successful Requests: 1,036,357
Instructions Included: Yes
Use this form to figure your biodiesel and renewable diesel fuels credit. Claim the credit for the tax year in which the sale or use occurs. This credit consists of the:
Form 8864
None at this time.
Biodiesel credit,
Renewable diesel credit,
Biodiesel mixture credit,
Renewable diesel mixture credit, and
Small agri-biodiesel producer credit.