Form 8862, Information To Claim Certain Credits After Disallowance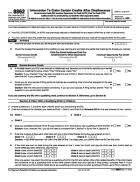 Latest Revision
Updated: 11/23/2019
Successful Requests: 1,036,357
Instructions Included: Yes
Taxpayers complete Form 8862 and attach it to their tax return if:
Form 8862
None at this time.
Their earned income credit (EIC), child tax credit (CTC)/additional child tax credit (ACTC), credit for other dependents (ODC) or American opportunity credit (AOTC) was reduced or disallowed for any reason other than a math or clerical error.
They want to take the credit(s) and meet all the requirements.