Form 8609, Low-Income Housing Credit Allocation and Certification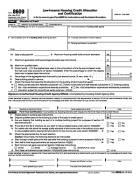 Latest Revision
Updated: 11/23/2019
Successful Requests: 1,036,357
Instructions Included: Yes
Owners of residential low-income rental buildings are allowed a low-income housing credit for each qualified building over a 10-year credit period. A separate Form 8609 must be issued for each building in a multiple building project. This form can be used to:
Form 8609
None at this time.
obtain a housing credit allocation from the housing credit agency, and
certify certain information.