Form 8582-CR, Passive Activity Credit Limitations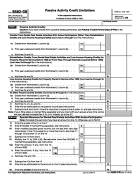 Latest Revision
Updated: 11/23/2019
Successful Requests: 1,036,357
Instructions Included: Yes
Noncorporate taxpayers use Form 8582-CR to:
Form 8582-CR
None at this time.
Figure the amount of any passive activity credit (PAC) for the current tax year (including any prior year unallowed credits) and the amount of credit allowed for the current year.
Make the election to increase the basis of credit property when a taxpayer disposes of his or her interest in an activity.