Form 945, Annual Return of Withheld Federal Income Tax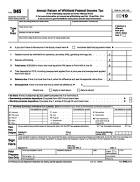 Latest Revision
Updated: 11/23/2019
Successful Requests: 1,036,357
Instructions Included: Yes
Use this form to report withheld federal income tax from nonpayroll payments. Nonpayroll payments include:
Form 945
None at this time.
Pensions (including distributions from tax-favored retirement plans, for example, section 401(k), section 403(b), and governmental section 457(b) plans), and annuities;
Military retirement;
Gambling winnings;
Indian gaming profits;
Voluntary withholding on certain government
payments; and
Backup withholding.