Form 8621, Information Return by a Shareholder of a Passive Foreign Investment Company or Qualified Electing Fund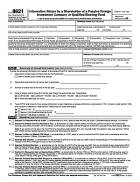 Latest Revision
Updated: 11/23/2019
Successful Requests: 1,036,357
Instructions Included: Yes
A U.S. person that is a direct or indirect shareholder of a passive foreign investment company (PFIC) files Form 8621 if they:
Form 8621
None at this time.
Receive certain direct or indirect distributions from a PFIC.
Recognize a gain on a direct or indirect disposition of PFIC stock.
Are reporting information with respect to a QEF or section 1296 mark-to-market election.
Are making an election reportable in Part II of the form.
Are required to file an annual report pursuant to section 1298(f).