Form 5227, Split-Interest Trust Information Return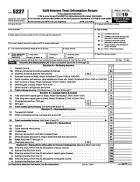 Latest Revision
Updated: 11/23/2019
Successful Requests: 1,036,357
Instructions Included: Yes
Use Form 5227 to:
Form 5227
None at this time.
Report the financial activities of a split-interest trust.
Provide certain information regarding charitable deductions and distributions of or from a split-interest trust.
Determine if the trust is treated as a private foundation and subject to certain excise taxes under Chapter 42.