Form 1127, Application for Extension of Time for Payment of Tax Due to Undue Hardship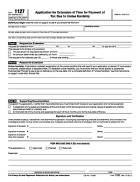 Latest Revision
Updated: 11/23/2019
Successful Requests: 1,036,357
Use Form 1127 to request an extension of time under Internal Revenue Code section 6161 for payment of the following amounts:
The conditions under which extensions may be granted under Section 6161 of the Internal Revenue Code are printed on the reverse of the application. 
None at this time.
The tax shown or required to be shown on a return.
An amount determined as a deficiency (an amount you owe
after an examination of your return).