Form 1099-SA, Distributions From an HSA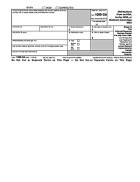 Latest Revision
Updated: 11/23/2019
Successful Requests: 1,036,357
Instructions Included: Yes
File Form 1099-SA to report distributions made from a:
The distribution may have been paid directly to a medical service provider or to the account holder. A separate return must be filed for each plan type.
Health savings account (HSA).
Archer Medical Savings Account (Archer MSA).
Medicare Advantage Medical Savings Account (MA MSA).