Form 1095-A, Health Insurance Marketplace Statement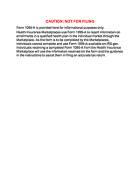 Latest Revision
Updated: 11/23/2019
Successful Requests: 1,036,357
Instructions Included: Yes
Health Insurance Marketplaces furnish Form 1095-A to:
Form 1095-A
None at this time.
IRS to report certain information about individuals who enroll in a qualified health plan through the Health Insurance Marketplace.
Individuals to allow them to:

take the premium tax credit,
reconcile the credit on their returns with advance payments of the premium tax credit (advance credit payments), and
file an accurate tax return.