Form 1041-ES, Estimated Income Tax for Estates and Trusts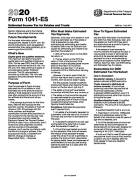 Latest Revision
Updated: 11/23/2019
Successful Requests: 1,036,357
Use Form 1041-ES to figure and pay estimated tax for an estate or trust. Estimated tax is the amount of tax an estate or trust expects to owe for the year after subtracting:
Form 1041-ES
Qualified Disability Trust Exemption Not Subject to Phaseout -- 03-DEC-2018
The amount of any tax withheld.
The amount of any credits.