Form 1041, U.S. Income Tax Return for Estates and Trusts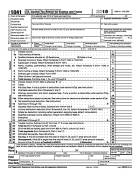 Latest Revision
Updated: 11/23/2019
Successful Requests: 1,036,357
Instructions Included: Yes
The fiduciary of a domestic decedent's estate, trust, or bankruptcy estate files Form 1041 to report:
Form 1041 (PDF)
Update to Error in Tax Calculation in 2018 Schedule D Tax Worksheet (Form 1041) -- 11-SEP-2019
The income, deductions, gains, losses, etc. of the estate or trust.
The income that is either accumulated or held for future distribution or distributed currently to the beneficiaries.
Any income tax liability of the estate or trust.
Employment taxes on wages paid to household employees.