Form 1040, U.S. Individual Income Tax Return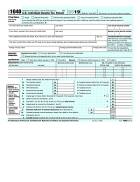 Latest Revision
Updated: 11/23/2019
Successful Requests: 1,036,357
Instructions Included: Yes
Form 1040 is used by U.S. taxpayers to file an annual income tax return.
For Tax Year 2018, you will no longer use Form 1040-A or Form 1040-EZ, but instead will use the redesigned Form 1040. Many people will only need to file Form 1040 and no schedules.
Individuals who filed their federal tax return electronically last year may not notice any changes, as the tax return preparation software will automatically use their answers to the tax questions to complete the Form 1040 and any needed schedules.